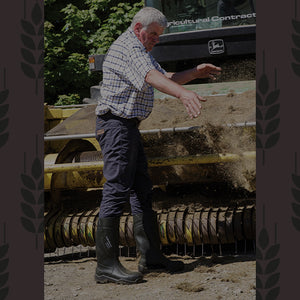 Wellingtons resistant to chemicals, minerals, vegetable oils & fats and manure
WE EMPOWER THE WORLD'S DOERS AND WORKERS.
We are Dunlop Protective Footwear, the world's leading manufacturer of protective footwear. In more than 75 countries worldwide, we provide comfortable and protective footwear for workers in agriculture & fishery, food processing, construction & industry and oil, gas & mining. We know these industries inside out, and by combining innovation with craftsmanship, we can offer you what you deserve: the best work boots in the world.
WE EMPOWER THE WORLD'S DOERS AND WORKERS.
Different jobs require different types of footwear. So we design, develop and manufacture all of our high-quality boots ourselves. As a result,the boots suit your every need, no matter the job. We ask questions, we do research, and we invest in innovation. We use the latest technologies and our years of experience to design products that are built to last.
WE DESIGN PRODUCTS THAT BECOME VALUABLE EVERYDAY COMPANIONS.
To ensure safe working environments, we collaborate with the world's leading safety organisations. Safety is our number one priority, from our innovative footwear to our production processes. This allows us to help the world's workforce to get home safely after a hard day's work. Our footwear meets ISO, ASTM, CSA and IATF safety standards.